Description
Vicks Baby Balsam 50g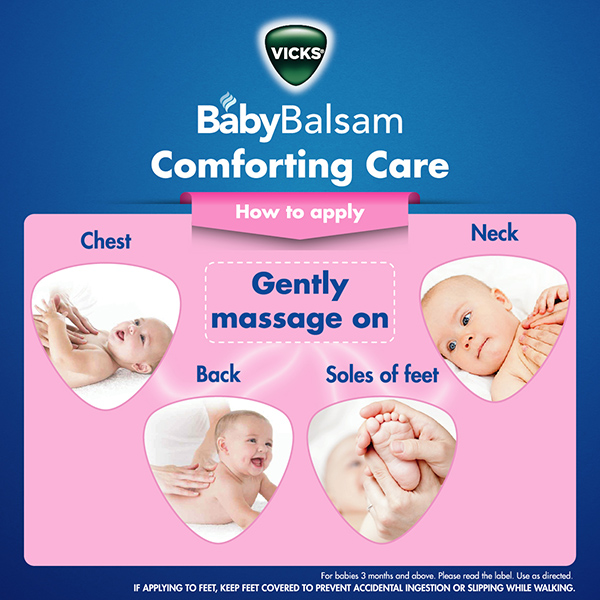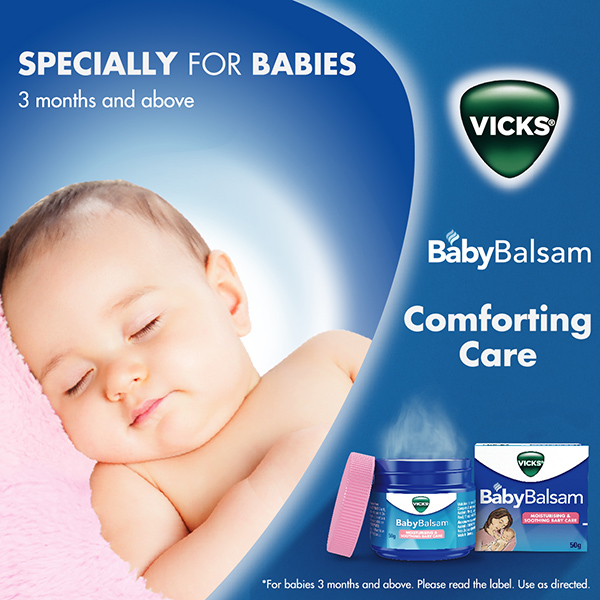 On fussy nights, Vicks Baby Balsam provides moisturising and soothing care for your baby!
The combination of Mum's warm and loving touch, together with this soothing balm can baby's discomfort and bring back the happy cuddles.
Vicks Baby Balsam is formulated specifically for babies 3 months and above. It is made with Aloe Vera extract and Coconut Oil known for their moisturising benefits. Vicks Baby Balsam also contains calming fragrances of Eucalyptus, Rosemary and Lavender to soothe and relax your baby.
A mother's touch can have a profound positive effect on babies and young kids alike. So make it your nighttime bonding ritual to give your little darling a short, sweet massage with Vicks Baby Balsam — and wake up worry-free to a happier baby.
Benefits of Vicks Baby Balsam
• Vicks BabyBalsam is specially formulated for babies
• Helps to gently moisturize, soothe and relax your baby
• Contains Aloe Vera extract, Coconut Oil and fragrances of Lavender, Rosemary & Eucalyptus
• It is gentle on baby's skin
• It is proven safe to use on babies 3 months and above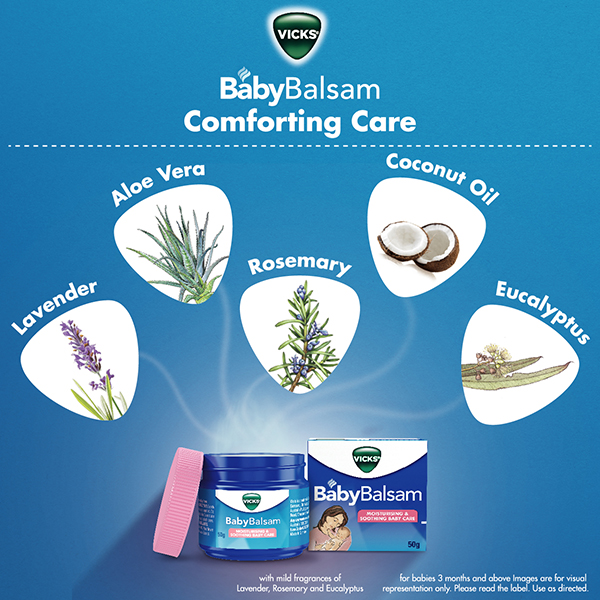 Ingredients
Petrolatum, Fragrances, Cocos Nucifera (Coconut) Oil, Paraffinum Liquidum (Mineral Oil), Aloe Barbadensis (Aloe Vera) Extract.Contains: Aloe Vera, Coconut Oil and Fragrances.
Directions
Use only as intended. Gently massage on chest, neck, back and soles of feet to help soothe and comfort.STORAGE INSTRUCTIONS
Store in a cool place.
Warnings
For external use only. Avoid contact with eyes. Do not use directly on face or on broken or damaged skin. Do not use in mouth or in nostrils.
Do not heat in water, a vaporizer, a microwave oven or on the stove.
Keep this product out of reach of children. Keep areas of application loosely covered to avoid accidental ingestion or slipping while walking. Avoid use if known hypersensitivity to any of the ingredients.
Replace jar lid when not in use.